You Have the Power to Bring Change
We are looking for volunteers that will help us with our ongoing projects and to fundraise and raise awareness for our organization. By Supporting Amsha Africa Foundation AAF initiatives, you will help transform local villages and slums by giving them a hand-up, not a handout. You will provide the means to promote efforts that are proven to be viable, self-sustaining and perpetual capturing an opportunity to leave a living legacy for future generations.
There are many great ideas that participants over the years have used to raise funds and awareness for AAF. Each year participants get more creative on fundraising. Participants had wine tasting parties, daily office loose change collection, picnics in the park with a silent auction, morning coffee and bake sale at the office and other creative office contests People can't donate if they don't know you are participating as an AAF volunteer! Talk about Amsha Africa Foundation programs with everyone you come in contact with and tell them about our programs and how they will help improve the lives of the impoverished in many ways!
f you have an idea you would like to see here, please let us know
If you are ready to volunteer with us, please download our volunteer registration and health questionnaire form. We kindly ask you to complete this form to ensure that we follow best practice in recruiting and supporting our volunteers. Once you have completed this form, you can mail it to us or scan it and email it. Contact details are provided within the forms. Thank you in advance!
Listed below are a few ideas to assist our volunteers in helping us raise funds and awareness within their communities.
Sign up and enlist people to join our online Crowdrise fundraiser:
If you haven't heard about Crowdrise, then you are out of luck!
Crowdrise is about volunteering, raising money for charity and having the most fun in the world while doing it. AAF has a Crowdrise page with all our programs listed http://www.crowdrise.com/amsha
We would suggest you check it out and sign up for a profile, it's one of the easiest ways to help us raise funds for your friends, family, co-workers etc. Try it, you will like it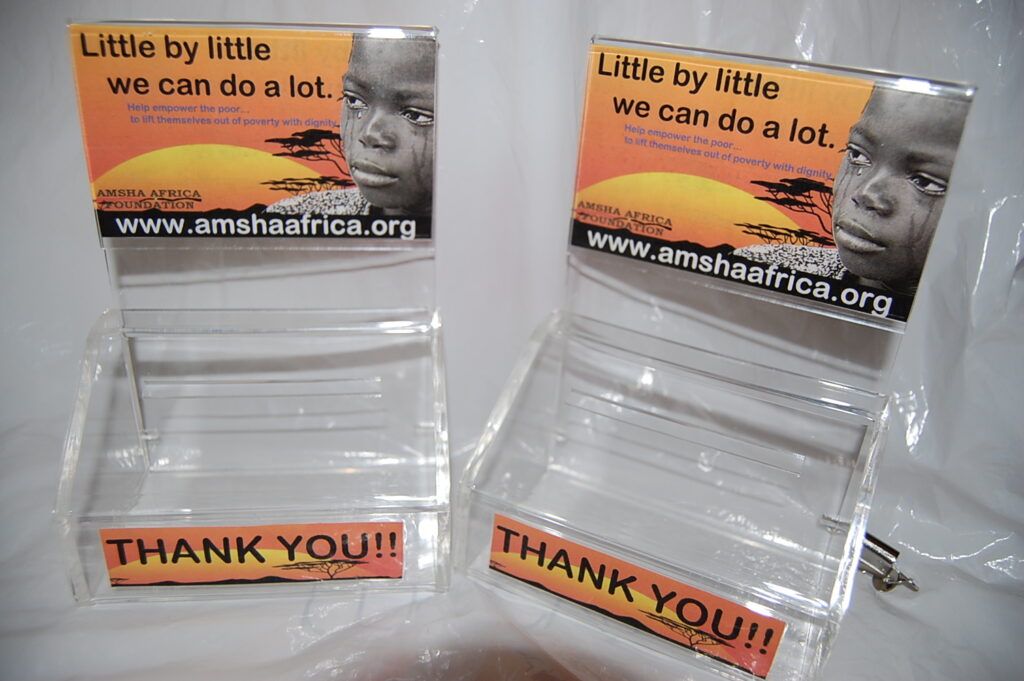 If you own a business or would like to support our organization in other ways you can get our donation box and place it in your office. business, or anywhere that you may get people to help with some extra change. A little change here and there adds up and goes a long way. Contact us if you would like to get one of these cool donation boxes
You can support our mission when you buy and sell on eBay:

Join our facebook group: www.facebook.com/amshaafrica
Follow us on Twitter: @amshaafrica
We post events and updates about our projects on Twitter and Facebook regularly what better way to be informed about AAF than following us on Twitter and liking our page on Facebook?
You can support our mission when you buy on Amazon:
Amsha Africa Foundation and Amazon Foundation partnered up with the creation of the Amazon Smile AAF site where a portion of your purchase is donated to AAF at no cost to you. Click here or the image below to support our organization
Download our informational brochures below for more information:
So we have a brochure with all that we do, if you want a quick way of passing information about AAF to anyone, just download this brochure, print it and hand it out Enough said.
Other ideas to look into:
Maybe you want other ideas to help fundraise or raise awareness for AAF We've compiled a list of some ideas you may want to look into it doesn't hurt to try one and let us know how it goes. Oh and by the way, we'll be 100% supportive of your efforts just let us know what you want to do and we'll get you all the support.
Talk to your grocer, doctor, nurses, dentist, hairstylist, etc.
Ask them if they would be willing to support your efforts.
Bring a sponsor pledge form to your place of worship.
If you attend religious services regularly bring along the donation flyer that you printed and ask fellow members of your congregation to support your efforts. If you need AAF to print you donation flyers so that you can distribute, just ask.
Collect and recycle aluminum cans and cell phones. Recycling is now worth more Many states and countries have raised the recycling value on cars and glass containers Put a container in your break room for collecting the cans and let colleagues know that recycling helps Amsha Africa Foundations efforts and don't forget to collect cans at home.
Ask your local bartender or waiters/waitresses to donate a portion of one day's tips.
You can create a sign for the bartender to place on the bar or a slip to put with checks that read all pips collected tonight will go directly to Rose Smith, who's raising money for Amsha Africa Foundation that helps empower people living in poverty
When people see the sign they may be willing to dig a little deeper in their pockets.
Hold a benefit tag, garage or rummage sale.
Ask your family friends and co-workers to donate Items Have all proceeds go to the charity and give anything left over to a local non-profit organization.
Include Amsha Africa Foundation information as part of your auto signature file in your email: include a link to our Amisha Africa Foundation web page in your signature: Each time you send a message, the recipient will be reminded to sponsor you.
Sell goodies to your officemates
Pick up bulk packages of the most sought after sweets and set up an honor snack area near the photocopy machine Charge $1.00 per item.
This is a fun one for many people. Did you know that an average person has 530-40 dollars in loose change monthly? Everybody has a stash of loose change in a cup or jar just sting around Ask everyone to donate theirs toward your goal You will be surprised how fast it adds up just imagine if you collected all the loose change from everyone in your office on a daily basis just how much you would raise.
Everyone watches The Oscars. The Grammys. The Golden Globes and The Tony Awards-so turn your party into a fundraiser Charge a cover and hand out ballots to see who can predict the most winners. Of course charge a fee for entry into the competition you can also present the winner with a hand-crafted statue that they will be able to take home and use as a bookend.
Sell tickets for an evening of anful singing at a local bar or at home. Get people to donate money to stop their friends from singing or have a singing contest. Charge an entry fee. and have proceeds from the ticket sales go to your AAF fund
Have a pop idol competition with your friends and co-workers.
Everyone gets sponsored to perform a song and you choose your own panel of judges, making sure at least one of them is as nasty as Simon on American idol Of course, charge em at the door and put the $5 toward your pledges.
Plan a Disco party on a Saturday night Sell tickets in advance, and have a raffle during the evening appoint judges and give a prize to the winners Have refreshments a costume contest and a dance contest. Relive the glory days of disco and raise money for the Amsha Africa Foundation.
Hold a non-raffle raffle the raffle no one wants to win intriguing yes? Everyone at an event is issued an equal number of tickets in the raffle for free but they have the opportunity to buy back their tickets stubs and reduce their chances of winning Why? The first prize is one that no one wants to win. i.e having their hair dyed green for a week!
if you know a rock band barn dance caller, jazz group disco Dj or string quartet, ask them if they will do a benefit evening for the Amsha Africa Foundation at a local club or coffeehouse.
A few more ideas to help you:
Don't be afraid to ask. The art of asking is to ask BIG in the earliest stages. You can adjust over time and then ask BIG as your fundraising deadline draws near
Find out if your company has a matching gift program, or if they will make a one-time donation Dont forget to ask the people sponsoring you if their companies have a matching gift program
if allowed by your company/school policies put a sign or note up in front of your desk or office saying Amsha Africa Foundation donations accepted here or something similar We will have posters available for you to use just contact us.
You might try putting a jar or container in a safe location for people to put change in. Every penny counts!
If you can sell tickets for a popular reward dress down privileges, leave work early comp time best parking space think of something fun for your co-workers.
Massage haircutting dog-walking babysitting landscaping clearing Offer these skills for others) in exchange for a donation to Amsha Africa Foundation.
Add a tag to your personal for business if appropriate) e-mail signature and a voicemail message mentioning how to support your participation in Amsha Africa Foundation's fundraising drive.
Everyone loves to eat! Try selling homemade store bought cookies or bulk candy, Hold a breakfast or lunch and ask for donations.
Ever heard of penny wars? This is a great game that pits different departments/floors/classes against each other. Each team gets a closed container with a slot on top for donations Every penny deposited is a positive point: every silver coin or paper bills negative. For example, your team could donate 100 pennies and have all 100 points wiped out if a competing team puts a $1 bill in your jar for four quarters or 20 nickels or 10 dimes) The team with the most net points at the end winst. The prize is up to you.
There are many structured fundraising programs out there that essentially offer a product for you to sell then split the proceeds with you. A few we've noticed Krispy Kreme Donuts Ultrazone Laser Tag Hershey's Products A quick internet search on "fundraising programs will turn up dozens of ideas and possibilities one (or more) of which may work for you!
Come up with more creative ideas! There are a lot of ways to raise money

Hold a raffle in your building-ask a local business or vendor to donate a prize
Silent or live auction. Collect prizes and auction to the highest bidder
Throw a theme party or a barbecue-charge a small admission-donate the proceeds
Ask your favorite businesses to sponsor you this is easer than you might think.
Have a garage sale – your trash is our treasurer
Pressed for time? Sell your items on e-bay or a similar site
Recycle collect bottles and cans to redeem-adds up fast!
Two words Car Wash
Follow up with people you've contacted. It's OK to remind your friends and family that you're still fundraising
Any other ideas of how you can help us please contact us.